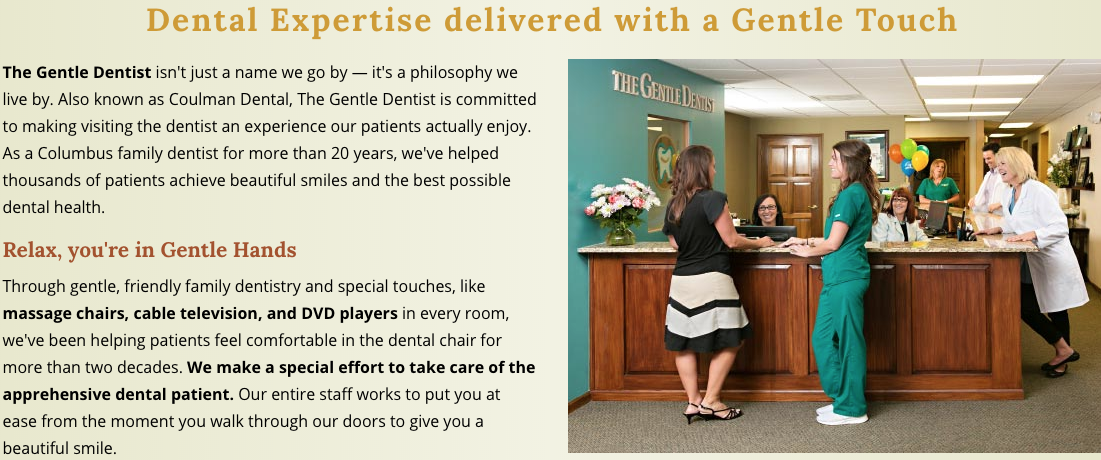 "This is the best dental office I've ever been to. The wait time is very minimal, things are explained, and the thoroughness of the cleaning meets my expectations. The staff is friendly and the environment is very professional."
—Angela Alston
Convenient Family Appointments
Mon-Thurs 7am-8pm
Fri 8am-2pm
Sat 9am-2pm
Welcome to Our Office Virtual Tour!
Sept-Oct NEW Patients Offer
$99 Exam + Cleaning / $79 for Children
For new patients, Sept. and Oct. only. Check out our Special Offers page for details.

Gentle Dentist in New Albany
As an experienced gentle dentist provider, we are eager to assist you with your purchase and questions. Trust The Gentle Dentist with your needs in the New Albany area. In our 20 years of experience, we have helped countless clients and we will be moving forward with this same pattern.
For quality gentle dentist services, you need a company who has experience, skill, and customer service. The Gentle Dentist has ample experience attending to the needs of New Albany area clients. Our services will be tailored to ensure your needs are accomplished.
Gentle dentist services from The Gentle Dentist are guaranteed to get the job done. We have spent many years perfecting the way we do these gentle dentist services, and our New Albany clients will see that when they work with us. Our experience has allowed us to achieve a reputation that is known for our customer service and getting the job done efficiently.
If you struggle with gentle dentist matters, trust our team at The Gentle Dentist to help you through it. If you are from the New Albany area, contact us to have your gentle dentist needs properly handled.
The Gentle Dentist
167 South State St
Westerville, OH 43081
(614) 865-3392