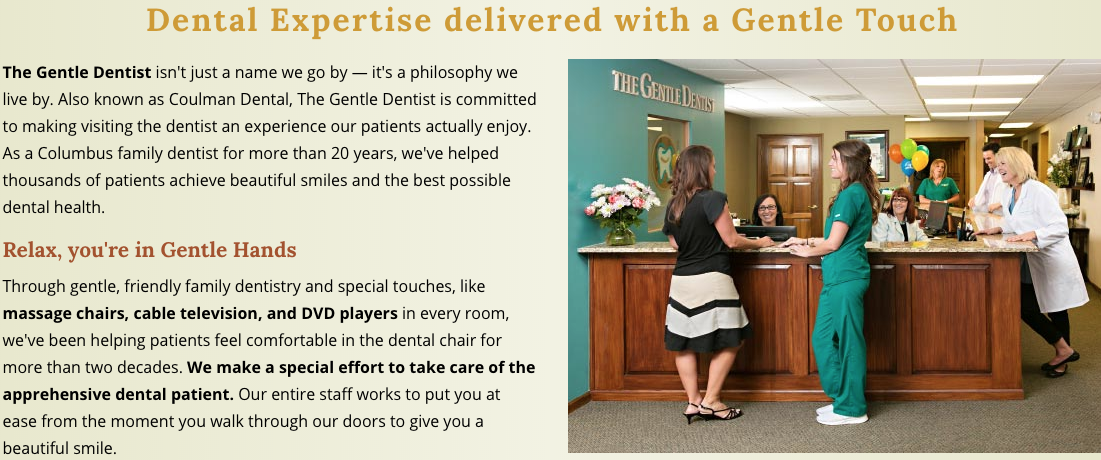 "This is the best dental office I've ever been to. The wait time is very minimal, things are explained, and the thoroughness of the cleaning meets my expectations. The staff is friendly and the environment is very professional."
—Angela Alston
Convenient Family Appointments
Mon-Thurs 7am-8pm
Fri 8am-2pm
Sat 9am-2pm
Welcome to Our Office Virtual Tour!
Sept-Oct NEW Patients Offer
$99 Exam + Cleaning / $79 for Children
For new patients, Sept. and Oct. only. Check out our Special Offers page for details.

Dentist in Worthington
Thanks to our ability to listen to our customers, The Gentle Dentist has earned a reputation for putting the needs of their clients first. We have 20 years providing dentist services to Worthington residents. The Gentle Dentist has the expertise and know-how to make sure you will be satisfied with our services.
One constant theme we hear from our Worthington area customers is that our care-orientated mindset distinguishes us from other companies that offer dentist services in the area. At The Gentle Dentist, we hold the opinions of our Worthington customers to the highest degree.
Work with The Gentle Dentist and you will see your goals put at the forefront of our efforts. We know when a customer from Worthington sets out to work with us, they are charging us with accomplishing their goals through our dentist goal.
Let us help you meet your dentist needs. With 20 years of practice, we can offer the Worthington area quality and effective dentist related matters. Do not hesitate to contact us.
The Gentle Dentist
167 South State St
Westerville, OH 43081
(614) 865-3392
Related Articles:
Affordable Dental Care Dentist in Westerville OH
,
Affordable Dental Care Dentist in Worthington OH
,
Best Cosmetic Dentist in Columbus OH
,
Best Dentist in Westerville OH
,
Children Dentist in New Albany OH
,
Cosmetic Dentist in Worthington OH
,
Dental Implants in Columbus OH
,
Dentist in New Albany OH
,
Dentist in Worthington OH
,
Gentle Dentist in Westerville OH
,