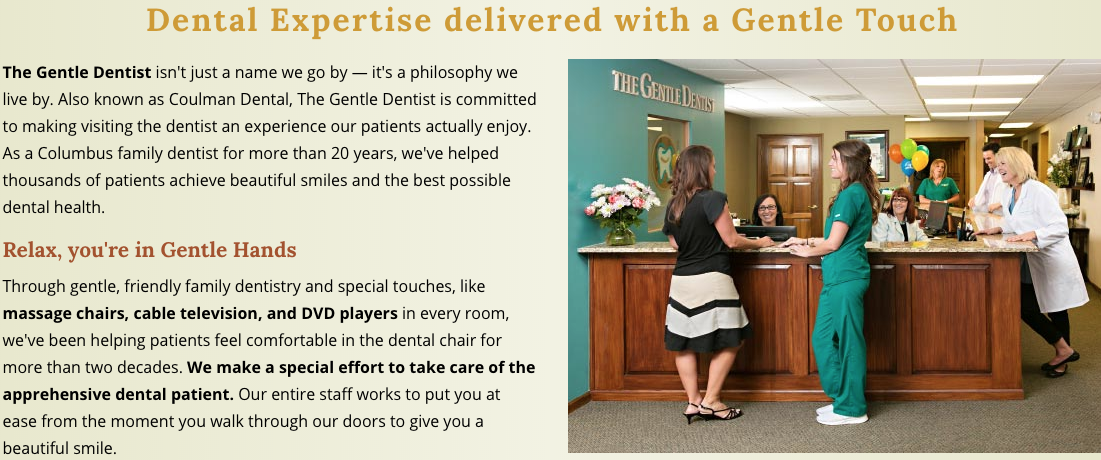 "This is the best dental office I've ever been to. The wait time is very minimal, things are explained, and the thoroughness of the cleaning meets my expectations. The staff is friendly and the environment is very professional."
—Angela Alston
Convenient Family Appointments
Mon-Thurs 7am-8pm
Fri 8am-2pm
Sat 9am-2pm
Welcome to Our Office Virtual Tour!
Sept-Oct NEW Patients Offer
$99 Exam + Cleaning / $79 for Children
For new patients, Sept. and Oct. only. Check out our Special Offers page for details.

Cosmetic Dentist in Upper Arlington
At The Gentle Dentist, our team of professionals are always looking for ways to improve the cosmetic dentist services we offer. One of the biggest ways we make improvements is by listening to the feedback we receive from clients in Upper Arlington. Due to this, we have earned a sound reputation for exceeding the expectations of our clients.
Our extensive selection of cosmetic dentist services feature some of the best research and planning behind them. Our dedication to our client and breadth of experience has earned The Gentle Dentist a reputation for providing quality services. Let our professionals cater to your cosmetic dentist needs.
The Gentle Dentist has established itself as the leading cosmetic dentist provider in the Upper Arlington area. Over 20 years, our experiences have allowed us to gain intimate knowledge of the work we do and how it benefits our clients. If you are in need of cosmetic dentist services, turn to The Gentle Dentist.
Let us offer our 20 years of experience to you. At The Gentle Dentist the customer always comes first. That is why we tailor our services to satisfy and meet your needs.
The Gentle Dentist
167 South State St
Westerville, OH 43081
(614) 865-3392