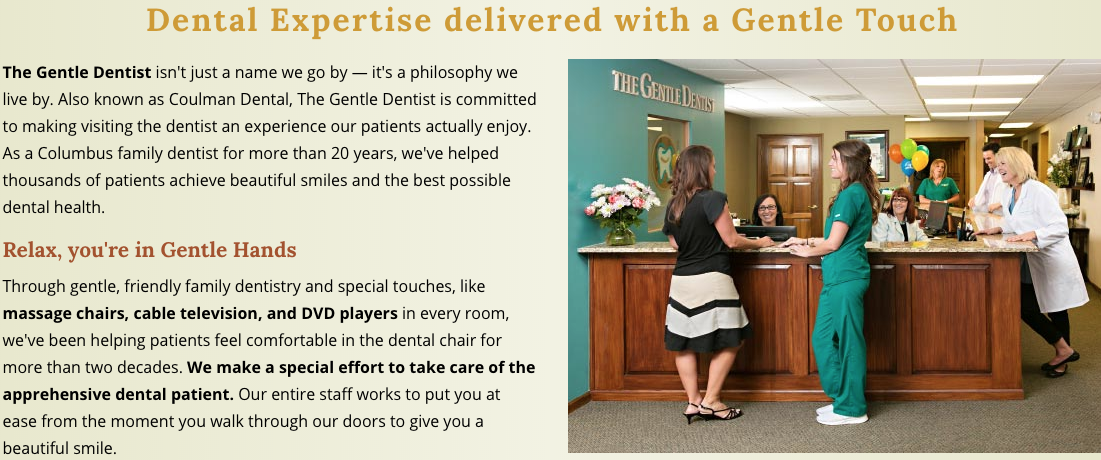 "This is the best dental office I've ever been to. The wait time is very minimal, things are explained, and the thoroughness of the cleaning meets my expectations. The staff is friendly and the environment is very professional."
—Angela Alston
Convenient Family Appointments
Mon-Thurs 7am-8pm
Fri 8am-2pm
Sat 9am-2pm
Welcome to Our Office Virtual Tour!
Sept-Oct NEW Patients Offer
$99 Exam + Cleaning / $79 for Children
For new patients, Sept. and Oct. only. Check out our Special Offers page for details.

Cosmetic Dentist in New Albany
What makes this all possible is the passion for cosmetic dentist industry that we at The Gentle Dentist maintain. This passion for our work and the services we offer is what helps us meet any challenges we face every day serving the New Albany area.
When you work with The Gentle Dentist, you are getting a team that has 20 years of experience in helping clients find the right services for their needs. If you are in New Albany, work with us to further your goals. We are the leading provider of cosmetic dentist services in New Albany and surrounding areas.
With our 20 years of experience, The Gentle Dentist knows how to create cosmetic dentist services for all needs. We have helped countless customers throughout the New Albany area and want to continue providing our services for years to come to better our business, your business and the local community.
If you are near the New Albany area, let our team prove what we can do. Your cosmetic dentist related needs are important, and we feel our 20 years of experience can help you meet them. Contact The Gentle Dentist today.
The Gentle Dentist
167 South State St
Westerville, OH 43081
(614) 865-3392