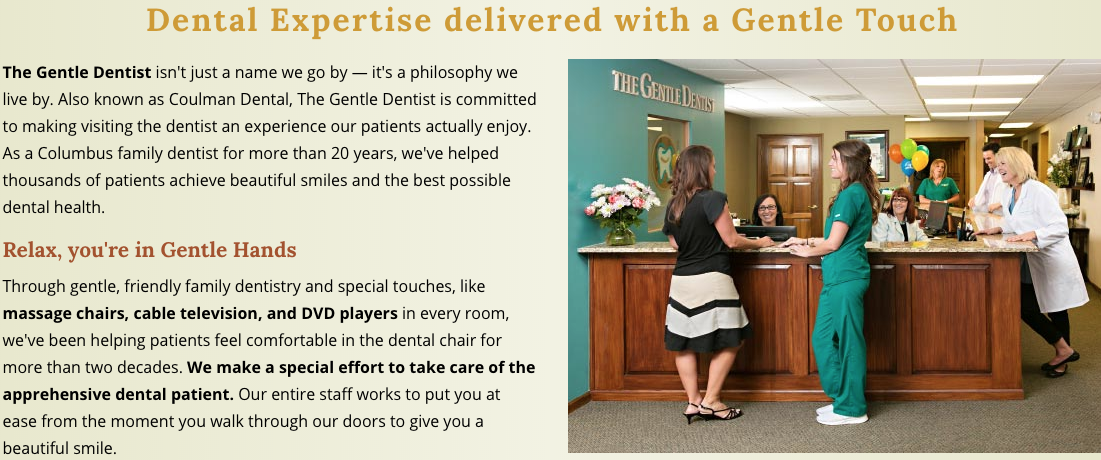 "This is the best dental office I've ever been to. The wait time is very minimal, things are explained, and the thoroughness of the cleaning meets my expectations. The staff is friendly and the environment is very professional."
—Angela Alston
Convenient Family Appointments
Mon-Thurs 7am-8pm
Fri 8am-2pm
Sat 9am-2pm
Welcome to Our Office Virtual Tour!
Sept-Oct NEW Patients Offer
$99 Exam + Cleaning / $79 for Children
For new patients, Sept. and Oct. only. Check out our Special Offers page for details.

Children Dentist in Westerville
The Gentle Dentist strives to be the go-to provider for children dentist services and to be a name trusted by all throughout the area and beyond. Our flexibility to expand and shape our services to fit the needs of our customers reflects our level of commitment to our clients. We are confident that our children dentist services will suit your needs and vision.
Children dentist services are meant to help the client achieve their needs and goals. At The Gentle Dentist, we maintain this as our focus and ensure that no matter what service our Westerville clients choose us for, they are receiving something that they can count on. Westerville clients have been relying on our services for 20 years.
When you need help, and a company that provides children dentist services is the only place you can turn, give our team at The Gentle Dentist a call. We will work tirelessly with any customer in Westerville looking for assistance.
If you are from the Westerville area, we want to help you! While many can offer children dentist needs in the Westerville area, only a few can offer the 20 years of experience we can provide. Call today at (614) 865-3392.
The Gentle Dentist
167 South State St
Westerville, OH 43081
(614) 865-3392