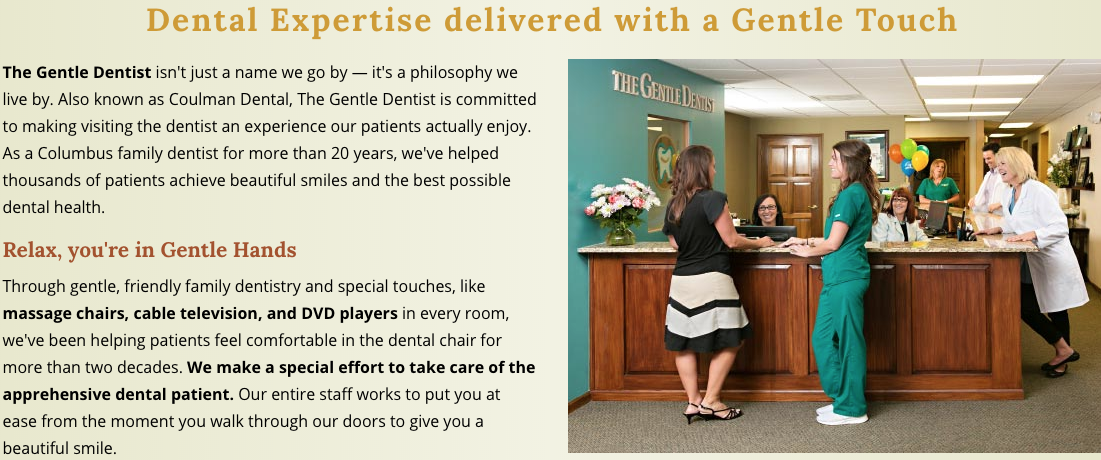 "This is the best dental office I've ever been to. The wait time is very minimal, things are explained, and the thoroughness of the cleaning meets my expectations. The staff is friendly and the environment is very professional."
—Angela Alston
Convenient Family Appointments
Mon-Thurs 7am-8pm
Fri 8am-2pm
Sat 9am-2pm
Welcome to Our Office Virtual Tour!
Sept-Oct NEW Patients Offer
$99 Exam + Cleaning / $79 for Children
For new patients, Sept. and Oct. only. Check out our Special Offers page for details.

Affordable Dental Care Dentist in Columbus
Feel confident and trust The Gentle Dentist to provide you solutions for your affordable dental care dentist needs. We have been in business for over 20 years and knows what it takes to leave a customer happy and wanting to come back for more. We are confident that we can provide you with the quality and trusted services you are in search of.
Do you live in the Columbus area and are in need of affordable dental care dentist services? If yes, look no further than The Gentle Dentist. We offer a plethora of experience and focus on customer service to Columbus area residents. The Gentle Dentist has learned over 20 years that the success that we have with each individual customer will lead to the overall success of our company.
Our affordable dental care dentist professionals know nothing but to deliver quality services and to ensure all your needs are satisfied. We provide affordable dental care dentist services for those individuals who need them in the Columbus area. We are committed to providing quality services that is why take the time to work closely with our clients for their benefit.
Our team at The Gentle Dentist will always put your needs first. With 20 years in practice, we know how to treat our customers and provide renown affordable dental care dentist services. Call us today to see why we have such a sound reputation in the Columbus community.
The Gentle Dentist
167 South State St
Westerville, OH 43081
(614) 865-3392