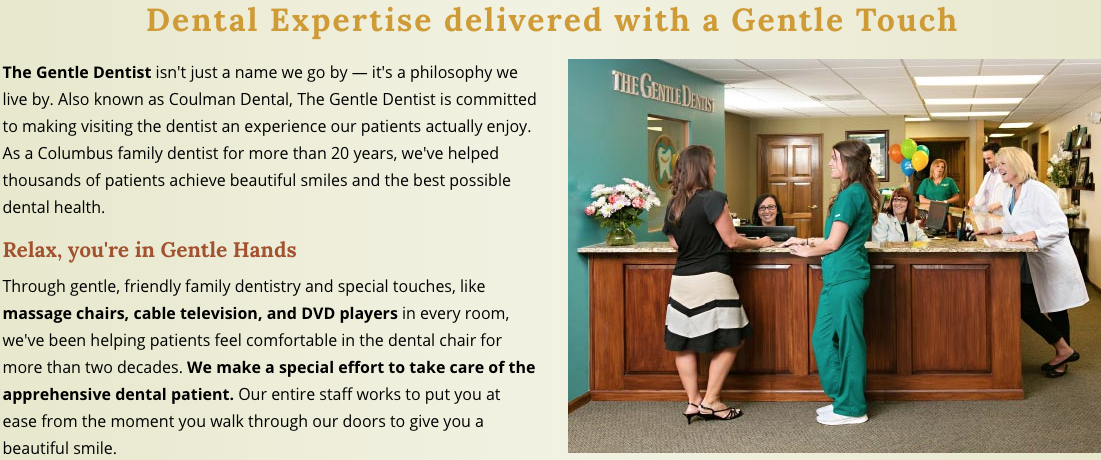 "This is the best dental office I've ever been to. The wait time is very minimal, things are explained, and the thoroughness of the cleaning meets my expectations. The staff is friendly and the environment is very professional."
—Angela Alston
Convenient Family Appointments
Mon-Thurs 7am-8pm
Fri 8am-2pm
Sat 9am-2pm
Welcome to Our Office Virtual Tour!
Sept-Oct NEW Patients Offer
$99 Exam + Cleaning / $79 for Children
For new patients, Sept. and Oct. only. Check out our Special Offers page for details.

Cosmetic Dentist in New Albany
We have learned how to listen to our New Albany clients in order to change our cosmetic dentist services accordingly. Here at The Gentle Dentist, "the customer is always right" is more than a slogan to us, it is how we conduct business every day.

Our extensive selection of cosmetic dentist services feature some of the best research and planning behind them. This broad range of choices is just one of several features that we offer at The Gentle Dentist. Our New Albany clients are encouraged to pick the one they deem most beneficial to them.

With 20 years of experience, The Gentle Dentist has learned valuable lessons on how to maintain the satisfaction of our clients. Our cosmetic dentist services are designed to benefit our New Albany clients in every way.

Come visit us at The Gentle Dentist today!
We offer over 20 years of experience to the New Albany area, so if you are dealing with cosmetic dentist needs, let us help you.
The Gentle Dentist
167 South State St
Westerville, OH 43081
(614) 865-3392