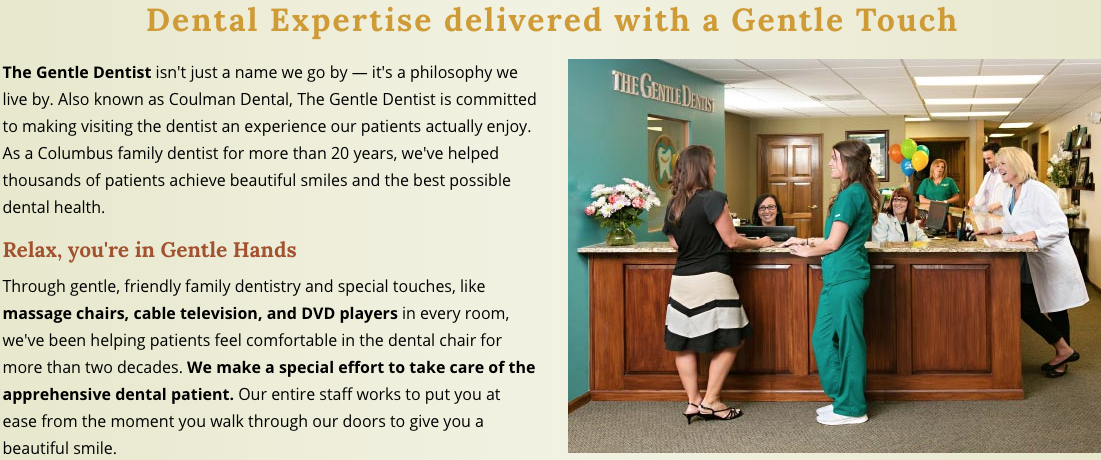 "This is the best dental office I've ever been to. The wait time is very minimal, things are explained, and the thoroughness of the cleaning meets my expectations. The staff is friendly and the environment is very professional."
—Angela Alston
Convenient Family Appointments
Mon-Thurs 7am-8pm
Fri 8am-2pm
Sat 9am-2pm
Welcome to Our Office Virtual Tour!
Sept-Oct NEW Patients Offer
$99 Exam + Cleaning / $79 for Children
For new patients, Sept. and Oct. only. Check out our Special Offers page for details.

Children Dentist in Westerville
At The Gentle Dentist, our devotion to perfecting our children dentist services for our Westerville clients is unmatched. We make it our priority to constantly stay on top of how our Westerville clients are reacting to our services and brainstorming ways we can improve them, accordingly.

If you are on the search for children dentist services in the Westerville area, work with a company that is guaranteed to put your best interests first. At The Gentle Dentist, we have a history of working closely with our clients and ensuring that they feel comfortable when depending on us for their children dentist services.

For 20 years, we have been working in the children dentist field trying to improve our services for the benefit of our customers. At The Gentle Dentist, we use our experience to improve the services we provide to our Westerville customers, and everyone else who we serve in the surrounding areas.

Visit us at The Gentle Dentist today!
Your children dentist matters are important to us. If you are near the Westerville area, call us at (614) 865-3392 or stop in for better help today.
The Gentle Dentist
167 South State St
Westerville, OH 43081
(614) 865-3392
Related Articles:
Affordable Dental Care Dentist in Worthington OH
,
Best Cosmetic Dentist in New Albany OH
,
Best Dentist in Columbus OH
,
Children Dentist in Columbus OH
,
Cosmetic Dentist in Upper Arlington OH
,
Cosmetic Dentist in Westerville OH
,
Cosmetic Dentist in Worthington OH
,
Dental Implants in Westerville OH
,
Dentist Near Me in Columbus OH
,
Family Dentist in Columbus OH
,