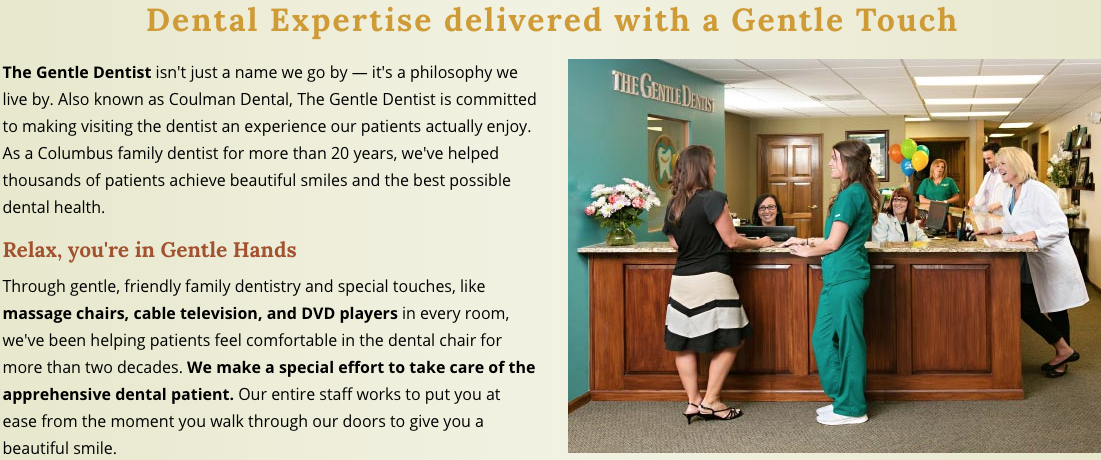 "This is the best dental office I've ever been to. The wait time is very minimal, things are explained, and the thoroughness of the cleaning meets my expectations. The staff is friendly and the environment is very professional."
—Angela Alston
Convenient Family Appointments
Mon-Thurs 7am-8pm
Fri 8am-2pm
Sat 9am-2pm
Welcome to Our Office Virtual Tour!
Sept-Oct NEW Patients Offer
$99 Exam + Cleaning / $79 for Children
For new patients, Sept. and Oct. only. Check out our Special Offers page for details.

Children Dentist in Westerville
We work hard to keep our Westerville customers satisfied with our services. At The Gentle Dentist, we know you want to be able to get trustworthy and consistent children dentist services.

In Westerville, clients expect the best possible results from their children dentist services. At The Gentle Dentist, a first-rate, second-to-none service is what we offer for our customers. Our reputation for providing quality children dentist service is something we've been working on for the entire 20 years we've been in business.

When you need children dentist services and are not sure who to turn to in Westerville, The Gentle Dentist makes your choice an easy one. We provide Westerville clients with children dentist services for their needs.

Visit us at The Gentle Dentist today!
Your children dentist matters are important to us. If you are near the Westerville area, call us at (614) 865-3392 or stop in for better help today.
The Gentle Dentist
167 South State St
Westerville, OH 43081
(614) 865-3392